Recipes – Churros with chocolate dip
2018-04-03
Yield:

8

Time to prep:

10m

Time to cook:

10m
Images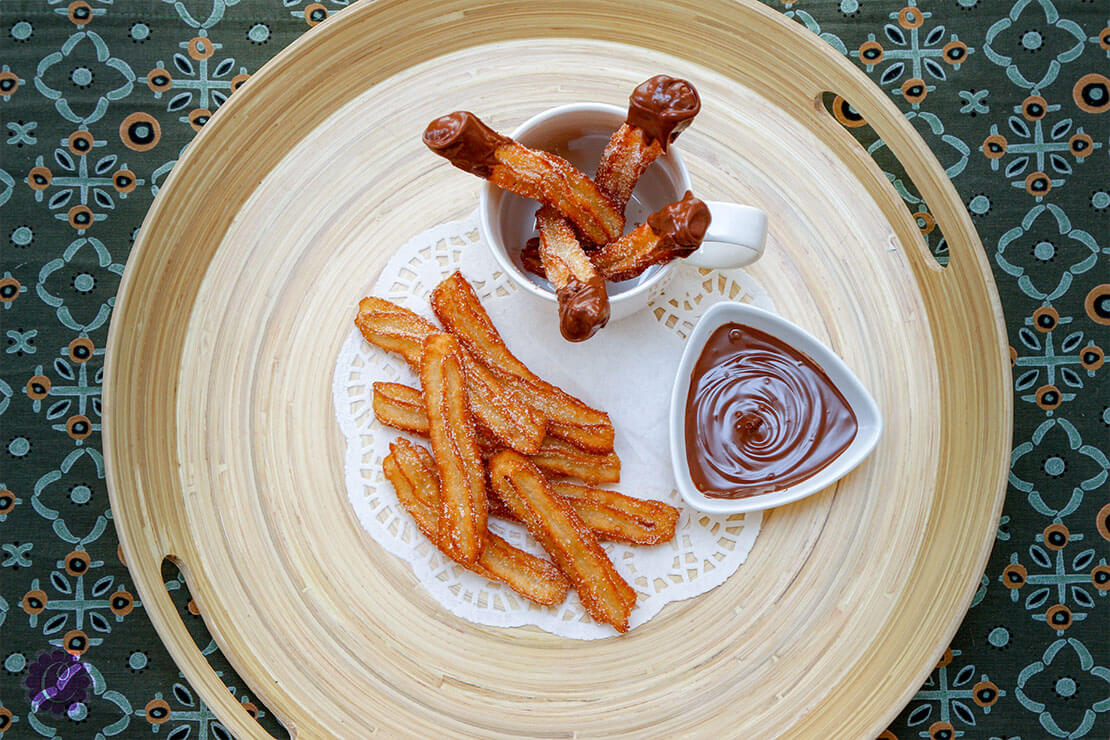 The fabulously crunchy and delicious Churros are one of the easiest desserts to make at home. My little girl is obsessed with them - she'll have churros any time of the day.
Deep fried dough rolled in cinnamon-sugar complementing with a pot of pure chocolate dip — what's not to love? Also churros are great for making ahead because they reheat well in the oven.
Ingredients
Churros
2 cup (300g) all-purpose flour
2 teaspoon baking powder
4 tablespoon caster sugar
1/2 teaspoon salt
2 tablespoon olive oil
2 cups (500ml) boiled water
4 cups oil, for frying
Coating
½ cup caster sugar
4 teaspoon ground cinnamon
Chocolate sauce
1 cup dark chocolate chips
1 cup thickened cream (heavy cream)
Alternative
You can use melted chocolate spread instead. I use Nutella spread. Just pop it in the microwave and melt a bit till it become smooth.
Method
If you're making ahead, Do not roll in sugar. Allow to cool completely, then store in airtight container (not in fridge). It will go soft. Reheat in 180C/350F oven for 5 minutes or until crisp, then roll in sugar.
Churros
Mix sugar and cinnamon in a shallow bowl and set aside for coating.
Mix flour, baking powder, sugar and salt in a large mixing bowl. Add oil and boiling water to the flour mix. Mix well until combined. (Batter should be thick like a wet thick dough, not thin and runny).
Heat oil in a wok or a skillet over medium high until the oil is hot enough to fry the churros.
Transfer the churro dough into a piping bag with 8mm star tip nozzle.
Pipe the desired length of dough into the hot oil, snipping with scissors. (I usually make each about 15cm long) do 3 or 4 per batch and cook for about 2-3 minutes or until golden brown, rolling occasionally.
Transfer onto a paper towel lined platter to drain.
Last but not the least roll in cinnamon sugar. Serve with chocolate sauce.
Chocolate sauce
Place chocolate in a heatproof bowl and microwave in 30 second bursts, stirring in between, until melted.
Add cream and whisk well until smooth and silky.
Have a cuppiest day!