Recipes – Creamy chicken and mushroom crepes
2018-11-05
Yield:

4

Time to prep:

20m

Time to cook:

30m
Images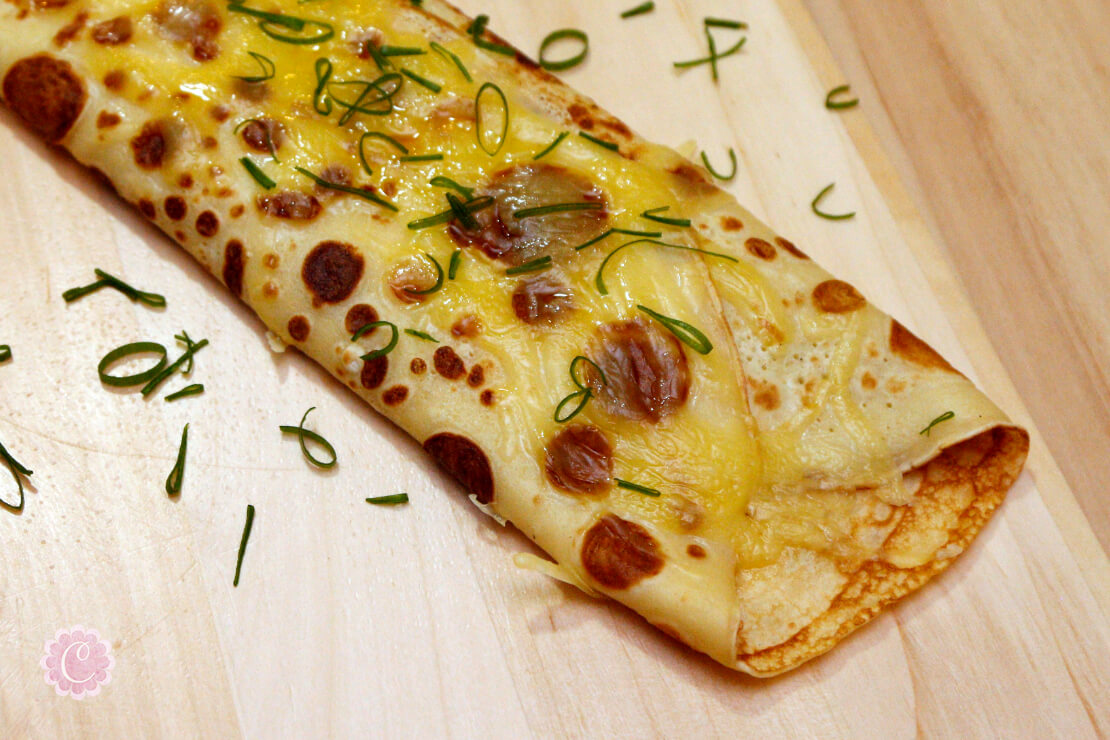 A deliciously creamy dinner is always a favourite with the family. Chunks of chicken in a creamy mushroom sauce with onions and celery and a hint of coriander, makes this so irresistible. This is the perfect go to comfort food even for brunches and a lot easier to make than one might think.
You can make any or all of the parts of creamy chicken mushroom crepes ahead of time, or even assemble them, keep them in the refrigerator until just before dinner and pop them in the oven before serving, giving you more time with your guests.
Ingredients
Creps
1 cup all-purpose flour, sifted
1 cup full cream milk
1/2 cup reduced-fat milk or water
2 tsp butter, melted
2 eggs
1/4 tsp salt
1/2 tsp sugar
Pinch of baking powder (optional)
Soften butter or non-flavoured oil for cooking
Filling
Olive oil or cooking spray
500g cooked chicken, pulled, chopped or thinly sliced (anyway you prefer)
150g Swiss brown or button mushrooms, thinly sliced
1 medium shallot, finely chopped
2 green onions, thinly sliced
2 garlic cloves, crushed
3/4 cup thicken cream
1/2 cup chicken stock
1/2 cup chopped coriander (optional)
Cracked pepper to taste
Salt to taste
Method
Creamy chicken and mushroom filling
Heat oil in a large, non-stick frying pan, over medium heat.
Add the shallot, garlic, and a pinch of salt - cook, stirring often, until the onions become tender and transparent.
Add mushrooms and celery - cook until the mushrooms have browned evenly (about 2-3 minutes).
Add the shredded/chopped chicken, 3/4 of the green onions and cracked pepper to your taste and stir well to combine.
Add cream and stock. Reduce heat to low. Simmer for 4 to 5 minutes or until slightly thickened.
Remove the pan from the heat and toss in the coriander.
Crepes
Place sifted flour, salt, sugar and baking powder in a bowl and give it a stir.
Whisk milk and egg in a mixing bowl, until fluffy (use an electric mixer or whisk with hand).
Gradually add the flour while mixing.
Add melted butter and beat until smooth. The batter should be thin, so add a little more milk, if needed.
If you're using water instead of reduced fat milk, add that after the butter.
At this point you can refrigerate the batter, or cook the crepes immediately. If you refrigerate it and it thickens, just add enough milk to make it thin again.
To cook the crepes, heat a crepe pan (or a small skillet over medium heat until drop of water sizzles.
Pour 1/4 cup mixture into pan. Swirl to cover base. Cook for 2 to 3 minutes or until light golden; turn; cook for 1 minute.
Transfer to a plate. Cover to keep warm. Repeat with remaining mixture.
Assembling
Spoon filling into the middle of each crepe and fold in from the two sides.
Lay the filled crepes in a greased baking dish, Sprinkle with grated cheese. Bake for about 10 minutes or until cheese is bubbly.
If your filling has been in the refrigerator, you will need to bake them for about 20 minutes, or until hot and bubbly.
Call it brunch, call it dinner, call it an edible hug, this is everything fall food should be.
Have a cuppiest day!