Recipes – Double chocolate strawberry pavlova
2018-06-16
Yield:

10

Time to prep:

15m

Time to cook:

120m
Images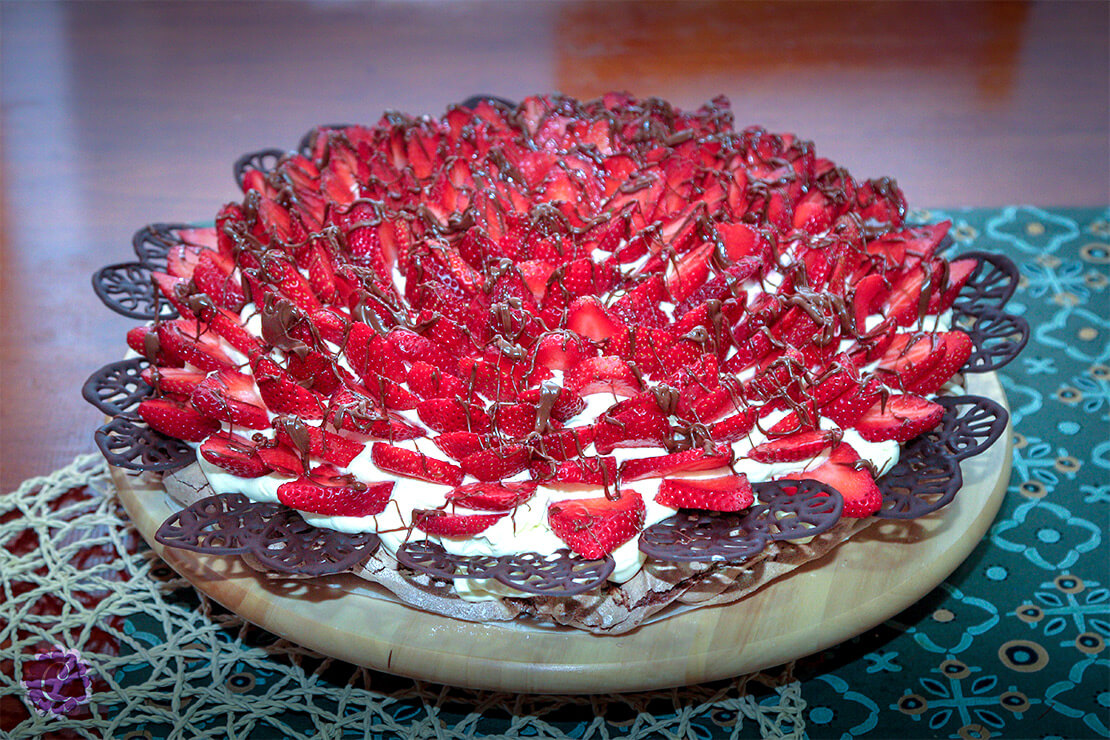 One condition of living in Australia is you must know how to make a pavlova in your sleep. In this crowd pleasing gorgeous chocolate version, cocoa powder and bittersweet chocolate are folded into the meringue — which makes it deliciously fudgy.
Pavlova, if you are not familiar with it, is a meringue cake named after the Russian ballerina Anna Pavlove. It's especially popular in Australia and New Zealand as well as in the U.K. as a deliciously sweet and feathery light confection, often filled with whipped cream and fresh berries.
This pavlova has so many flavours and textures to consider, it will make your head spin — in a good way! First, there are the crispy edges of meringue and the soft, slightly marshmallow-y interior and the crunchy dark chocolate shell. Add to that, the clouds of creamy whipped cream and strawberry heaven drizzled with chocolate sauce, and you have a dessert worthy of any celebration!
But you don't have to play by my rules. This can be made slightly more black forest with some cherries or go with raspberries for a super traditional feel. You can fashion this pavlova into just what you want it to be.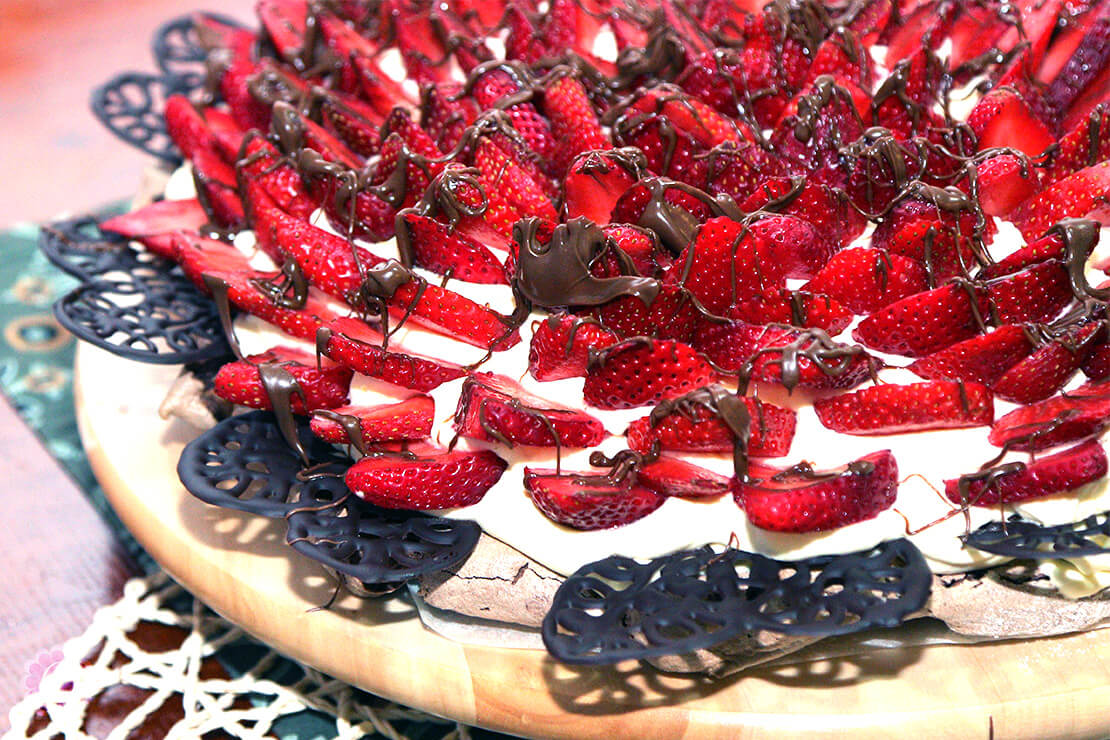 I know that making meringue can sometimes be a bit scary sometimes. If even a drop of egg yolk finds its way into the bowl of whites, it will make it difficult for the egg whites to whip up properly. The easiest solution is to use a rolled-up kitchen towel or scoop it out with the edge of an eggshell.
Another trick to make a stable meringue is to have room temperature egg whites. This is very crucial. Always remember to bring your eggs to room temperature. I keep mine out of the fridge on the previous night just to be on the safe side.
When whisking, start the mixer on low, so that you get a million of little bubbles. If you start the mixer up on high right from the start you only will get a few large bubbles. If one of them breaks, it will make your mix unstable.
And the most important fact to remember – always make sure that mixer bowl is clean and dry.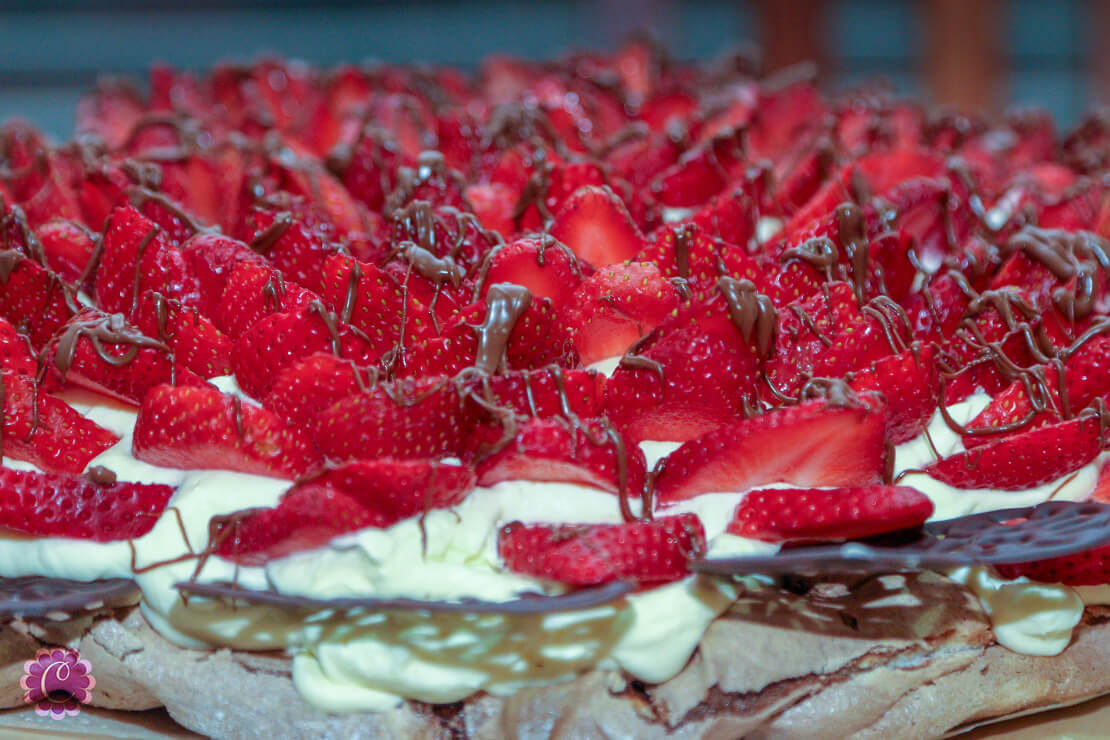 Ingredients
Pavlova
6 large egg whites
300g (1 1/2 cups) Caster sugar
2 tsp corn flour
1 tsp red wine vinegar
1/2 tsp vanilla extract
3 tbsp unsweetened cocoa powder
60g (2 ounces) bittersweet chocolate, finely chopped
Pinch of salt
Topping
600ml thickened cream
2 tbsp pure icing sugar, sifted (optional)
Strawberries, sliced or chopped (optional)
Chocolate sauce (optional)
Method
Pavlova
Preheat the oven to 150C (300F).
Line a baking tray with parchment paper. Mark a 23cm (9inch) diameter circle or any other shape you like on the parchment paper. Flip the paper over so the ink-side is facing down (and doesn't touch the meringue), but you can still see the outline through the paper.
Place egg whites in a clean and dry mixer bowl. And whisk on low speed for about 4 minutes till you get lots of little bubbles. Turn the mixer up to high and continue to whisk until soft peaks form.
Gradually beat in the sugar - a spoonful at a time until the meringue is stiff and glossy.
Rub a little meringue between fingers. If it's still gritty with sugar, continue to whisk until sugar dissolves.
Add cornflour, vinegar and vanilla extract and whisk until just combined.
Sift in the cocoa powder through to the meringue. Add the chopped chocolate. Fold the mixture using a large rubber spatula, until well combined. It should be a light mocha colour with no white or brown streaks.
Add a dab of meringue under each corner of the parchment paper to secure from running on the baking tray.
Spoon in the meringue onto the baking paper using your marked circle as a guide.
Smooth sides and top of Pavlova as you wish.
Bake in oven for 5 minutes under 150C (300F). Bring the temperature down to 120C (250F) and bake for another 1 1/2 hours. Reduced it again to 80C (176F) and bake it for another half hour. Make sure you won't open the over door during this process. (Your meringue should be harder form outside but soft and chewy from inside)
Leave the pavlova to cool completely and transfer to a serving platter or store in an air tight container until required. You can even make the meringue layer a day or two ahead.
Topping
Use an electric mixer to whisk the cream until soft peaks form. Do not overbeat; it should not be too stiff or grainy.
Spoon crema on to your pavlova and decorate it with strawberries (or any other fruit you like).
Dust the icing sugar on top (you can always skip this or add more to your taste).
Drizzle chocolate sauce over and garnish it any way you like (I used my home made chocolate hearts for garnishing).
After assembling it, you can keep it in the fridge, uncovered, for up to three hours.
If you're making it for a party, you make it just before guests arrive, stash it in the fridge, and pull it out when the time for dessert rolls around.
I used my homemade chocolate hearts for garnishing. You can use chocolate shavings or any type of chocolate garnishing on it. You can serve this even without any garnishing because it's an absolutely stunning show-stopper, for sure.
This heavenly crunchy, chewy and rich chocolate meringue, with silky soft, whipped cream, topped with fresh strawberries and dark chocolate is a classic must to share with loved ones!
Have a cuppiest day!